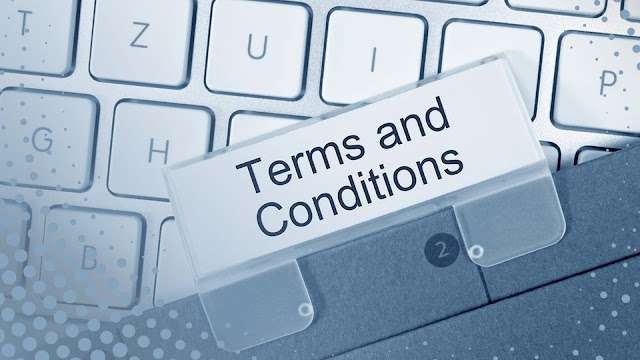 One important thing to know is that photographers are not marketing people. Due to lack of this quality, many photographers may miss the terms and conditions column in their photography business. Many Photographers spend most of their precious time in photography content like creative aspect, technicality, photography equipment, finding location etc or whatever makes their photograph Amazing.  
WHY TERMS & CONDITIONS? - If photographers are looking for a successful business. Then setting up the terms and condition is your priority. Terms and conditions are the agreement between photographers & clients for a successful deal. When the contract and terms and conditions are very much clear in advance then there is a hard chance for any dispute.
When you are going to write terms and conditions then you must follow important terms
% of Advance payments
Delivery time
Location finalization
Date of shoot
Understanding the project
Preplanning 
Any important instruction related to the shoot 
Name of the concerned person
Never take any project without advances because once the project is taken without advance then there is a 75% chance of deductions of the payment.  Never ever take this risk. 
Never deliver the final photographs without accepting the full and final payment.
If the requirement of the client is not cleared or not understood well then never take that project. This will help to build your brand. 
There are few minor inputs helps you to run your business successfully. Terms and condition always works as backbone of the company. Ignoring terms and conditions is injurious to your business. It is advisable to think deeply and settle your terms and conditions to establish your photography business. 
Keep experimenting! Have wonderful & happy photography life to you all.
Photographer & Blogger Prasenjeet Gautam (www.prasenjeetgautam.com) Image - Courtesy - Google